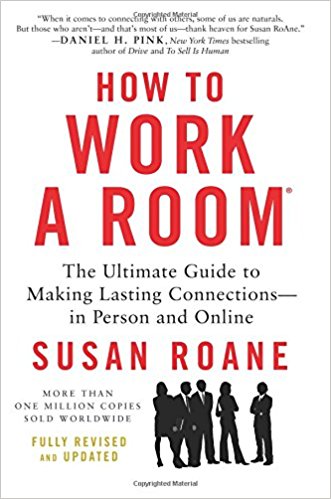 How to Work a Room, 25th Anniversary Edition: The Ultimate Guide to Making Lasting Connections--In Person and Online
by Susan RoAne

As an Introvert have you ever walk into a room and felt lost and isolated?
This classic book on improving communication and socializing skills in any situation to succeed in business and life, should be on your bookshelf
How To Work A Room lays down the fundamentals for savvy socializing, whether at a party, a conference, a meeting, or while communicating online. Drawing from her vast experiences working with top industry leaders such as Coca-Cola, Apple, the NFL, and UnitedHealth, Susan RoAne presents easy-to-implement strategies to exude more confidence, win over your colleagues, and achieve more at work and in life. Simple and effective, RoAne's methods include overcoming the five roadblocks that keep most people from making new contacts; mixing chutzpah and charm; suggestions to start, maintain, and graciously end conversations; knowing when to use humor and when not to do so; and following simple rules of etiquette.
Incorporating years of feedback from hundreds of presentations, as well as anecdotes from around the globe, RoAne keeps How To Work A Room fresh and on-target. In this 25th anniversary edition, there are new chapters include more strategies for communicating effectively in today's tech driven world, and tips for working the room in diverse and fast-paced settings.