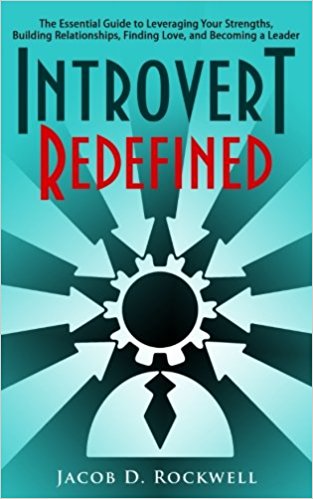 Introvert Redefined: The Essential Guide to Leveraging Your Strengths, Building Relationships, Finding Love, and Becoming a Leader
by Jacob D Rockwell
Learn how you can
 

leverage your strengths

 

as an introvert to build better friendships, create long-lasting romantic relationships, and develop your true leadership potential.

Life can be challenging as an introvert when everything seems to be catered towards extroverts. Going out and meeting new friends at a local bar. Finding a romantic partner at a friends house party. Getting the raise because you managed a team to record monthly sales. All of the best things in life seem to be reserved for the loudest people in the room. But you can REDEFINE what it means to be an introvert and use play your strengths to your advantage.

This book covers:

Dispel the many myths that surround introverts.

Shy. Antisocial. Depressed. Apathetic. These are just some of the many myths surrounding introverts created by those who don't understand what it likes to get our energy from solitude. We will dive into the many stereotypes that people associate with introverts and show why each one is nothing but a myth.

Become self-aware of your innate introvert strengths.

We tend to look our introverted personality traits as weaknesses. We will redefine what it means to be an introvert by looking at examples of prominent and successful introverts such as Bill Gates, Albert Einstein, and Susan Cain. This book highlights some of our greatest personality strengths such as
Exceptional listening ability
Self sufficiency and independence
Superior ability to focus
Trustworthiness and other admirable qualities
You will be able to identify the strongest characteristics of your personality and apply them to your life.
Create friendships that last.
It can be difficult to form friendships when we get the most satisfaction of keeping to ourselves or spending time with a few close friends. Find out the best places to develop new friendships and the best techniques to make lasting connections. You will learn the simple steps to get outside of your comfort zone and let others into yours.
Discover the secret to finding romance, naturally.
Have you ever missed an opportunity to connect with someone attractive because you were afraid to be yourself? Discover how your personality traits can actually help you attract romantic partners and create a foundation for a loving relationship. This book will help you figure out the key forms of affection that will make you irresistible to your loved one.
Realize your true potential as a leader.
Lay to rest the idea that introverts can't be leaders. Some of the greatest leaders are introverts and you can be one too. We'll discuss how some of our main strengths can play a role in developing effective leadership skills. Drawing from techniques from U.S. Navy Seals, this book describes how you can harness the power of introspection in making critical decisions.
Don't let yourself be limited in life because "that's how introverts are supposed to be." Learn what it takes to REDEFINE introversion and take your game to the next level.